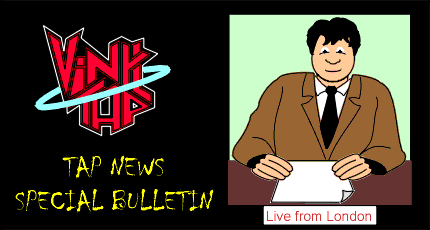 SHOCK NEWS
In the last few hours, guitarist Rik Pastitt has walked out of rehearsals for the new Vinyl Tap single. In a tempestous exchange of views, the musician, troubled by his excesses stormed out, leaving all of his instruments and gear behind. In a statement to Tap News, lead singer, Eddie Van Rental said, "Sometimes things just don't work out. I've played with Rik from the the very start but you've seen how many people have been in the band over these last years. 57 people have been in this band, and I can't see myself missing Rik any more than I miss Stumpy Joe or Pete Childs."
I admit I was shocked, as the World will be shocked by these revelations, but Eddie said, "I'm sure I'd feel much worse if I wasn't so heavily sedated, but the show must go on. You are about to witness the rebirth of Vinyl Tap (Mark Two) and it gives us a chance to do all of the things which we never had time to do. Maybe we'll do a jazz odyssey or a musical play. It's not the end!"
The band will be appearring later this Spring as a powerful trio at a club near you. It would be a crime to miss this band back on the road after so many problems.
CD Single now out!
Despite the personnel problems, the band are issuing their first CD single. The single will be available from gigs and from the Fan Club (see the CD single page or the Fan Club Contact page). It comprises of two tracks at present, 20th Century Boy, the old T-Rex classic, and the ultimate Free track, Wishing Well. A third track, Crazy Horses, Special Edition will be available during the Summer.